In recent years, distributed ledger technologies, or blockchain has become one of the hottest topics in the financial service field, showing prospects as the next-generation infrastructure for the financial system. Nearly all financial-related organizations such as The World Bank, IMF, and central banks around the world are exploring the feasibility of implementing such a system, with cross-border payment systems using distributed ledger technologies, especially digital currencies, as a main use case.
To explore the global payment use case proposed by the World Economic Forum and support the Bank of Thailand's digital currency vision (Central Bank Digital Currency, CBDC), we proposed a multi-currency gateway platform using a private blockchain system. The platform was designed to act as an intermediary to distribute digital Thai Baht by providing exchange between multiple types of currencies, fiat and digital, to digital Thai Baht and vice versa.
The proposed system prototype was embedded into Travel Wallet Demo.
Distributed Ledger Technology (DLT) is one of the major emerging technology in recent years and being one of the highlight technology related to mentioned by World Bank and World Economic Forums. While DLT has many use cases, one of the most popular field is payment, which also includes digital currencies. During the time this report is written (early 2022), the market size of digital/crypto currencies is around 2 trillions US dollars which trigger the interest of many central bank around the world. As a result of both the technology and digital currency trends, many central banks have initiated studies/pilots to produce central bank backed digital currency.
Bank of Thailand published reports regarding digital currency development and possible use-cases in Thailand. While retail CBDC is still under development, we explore blockchain technology and trial business use cases inspired by the published data from Bank of Thailand, major technology firms and financial institutes around the world.
Our research and prototyping
The use-case that was selected to try out within Innovation team was the "Multi-Currency Gateway Platform (MCGP)" building on top of Corda by R3, which was a technology of choice for Bank of Thailand's wholesale CBDC.
The platform simulated DTHB or Digital Thai Baht as a representative of CBDC which will be used internally for the gateway as liquidity pool to provide exchange and distributed to user/business wallet for utilization.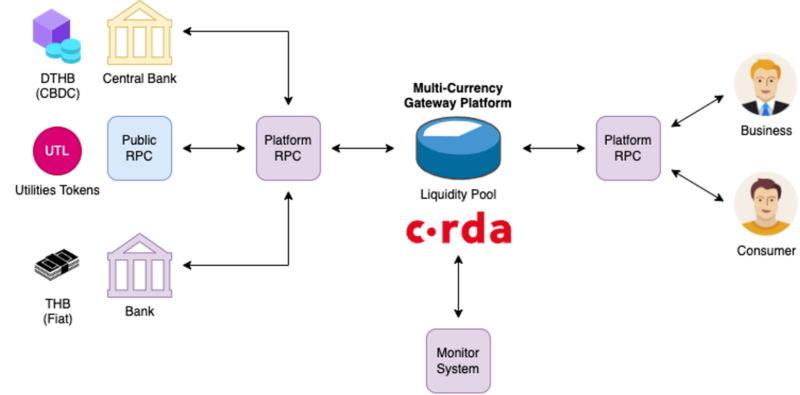 The gateway is designed to support multiple type of currencies but for the prototype, we decided to work with Fiat Thai Baht (THB).
For money flow through the platform via bank accounts, we decided to simulate lock & mint mechanisms used in cross-chain transfer of digital currency. Platform will create synthetic token for Thai Baht (ITHB) and mint/burn it to indicate fiat THB coming in and out of the platform. By doing so, the platform had the ability to keep track of all movement of both fiat and DTHB within the system.
The same mechanism can be utilized for any fiat or digital currency coming in and out of the platform, when adding new fiat currency, only a single integration point between platform's bank account holding the currency and the entry point of platform is required, while the rest of the system using the exact same mechanism for any type of currencies.