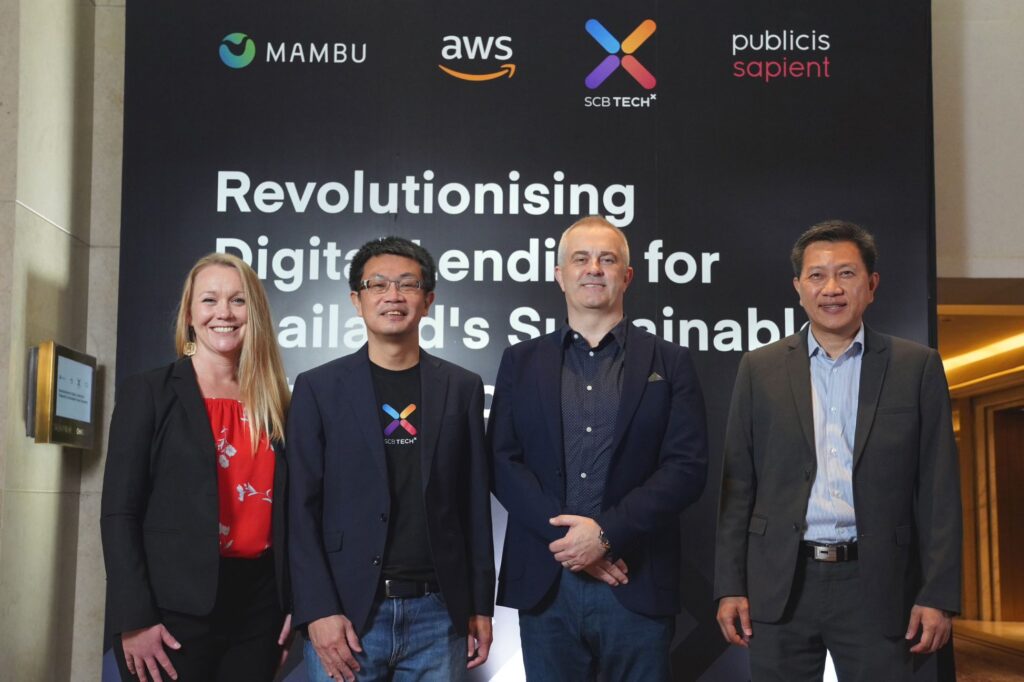 "SCB TechX," a fintech company formed as a joint venture between SCBX Group and digital transformation company Publicis Sapient, recently collaborated with SaaS cloud banking platform "Mambu," consulting and digital transformation service experts "Publicis Sapient," and the world's most comprehensive and broadly adopted cloud offering "Amazon Web Services" (AWS), to organise a "Revolutionising Digital Lending for Thailand's Sustainable Future Economy" seminar. The seminar was designed to educate and create an understanding of digital lending among corporate executives and companies interested in operating Nano Finance for microfinance and regulated small loans offered to individuals by provincial financial institutions, or Pico Finance. The seminar raised awareness of the changing global trends in digital and sustainability issues affecting the financial sector, with a particular focus on digital lending, which will provide opportunities for the development of financial services. The seminar covered the growing trend of digital credit demand, which is likely to continue to increase business opportunities in the face of stiff competition and preparing for more open competition in Thailand.
Mr. Trirat Suwanprateeb, Chief Executive Officer of SCB Tech X Co., Ltd., stated in reference to the seminar, "SCB TechX's role is to create new capabilities from digital technology, platforms, and modern innovations to help partners and organisations expand and create new business. Because the microfinance business for underserved low-income earners and small businesses, such as deposits, loans, and fund transfers has continued to grow, it is one of the business segments on which we focus. We are keen on digital lending for this group of customers as they are growing continuously. Depending on the approved credit limit and purpose, microfinance in Thailand can be divided into three main services: 1) Nano Finance, microfinance with a maximum limit of 100,000 Baht; 2) Pico Finance, regulated small loans offered to individuals by provincial financial institutions with a maximum limit of 100,000 Baht; and 3) Digital personal loans using alternative information for credit approval with a maximum limit of 20,000 Baht.
"According to Bloomberg, the overall microfinance market in Thailand is worth approximately 200 billion baht, while at the same time, more than 18 percent of Thai people have no access to formal financial resources and therefore rely on informal loans, making the informal loan market worth more than 1 trillion Baht. Once the Covid-19 pandemic subsides, these numbers suggest that the Nano loan and Pico Finance markets will continue growing. Therefore, SCB TechX sees opportunities and growth potential in Thailand's digital lending market. We are prepared to provide advice, develop systems and platforms, and connect business alliances that will help Nano and Pico Finance service providers meet the needs of their clients, with the goal of expanding Thais' access to legitimate financial services. We are prepared to contribute to the sustainability of the economic and financial system and the continued growth of the nation," added Mr. Trirat. 
Mr. Myles Bertrand, Managing Director, Mambu APAC said, "With evolving regulations, increasing demand, and growing competition, agility is now the key to competitiveness in APAC's lending industry. Thailand leads the region in terms of SME lending – with more than half of all outstanding business loans being to SMEs – with financial institutions needing to be lean and fast, particularly around loan decisions and the customer experience, all while minimising their exposure to credit and compliance risks. Composability is the answer to thriving in this age of change: with cloud-native platform like Mambu, lenders have the scalability and agility to introduce new features safely while keeping pace with their customer expectations."
"With over a third of the adult population in Southeast Asia still unbanked or underbanked, Thailand offers one of the largest untapped opportunities for the financial services industry in the world today.  In a recent qualitative study conducted by Publicis Sapient in Thailand, we found that the financial needs of individuals, families and businesses varied greatly as they moved through various stages in life and the growth cycle," said Mrs. Emma Louise Scales, Publicis Sapient's Managing Director, ASEAN.  "SCB TechX, which we built with SCBX Group last year to create one of the largest fintech entities in Southeast Asia, is gaining traction with the launch of new services, from rider and health utility apps to gamified loan products and travel services, as a way to rethink banking and engage consumers in new ways. Our portable, self-service platform offers banks and digital lenders the ability to rapidly develop and deploy secure compliant and data-rich applications."
Mr. Vatsun Thirapatarapong, Managing Director of Amazon Web Services (Thailand) Co., Ltd., said, "Cloud is transforming the financial industry and we are delighted to support SCB TechX to drive innovation for Thailand's digital lending market," said Vatsun Thirapatarapong, Country Manager, Amazon Web Services (Thailand). "By working with AWS, SCB TechX, Publicis Sapient and Mambu will have access to the breadth and depth of more than 200 fully-featured AWS Cloud services, including AWS's industry-leading security capabilities and world-class global infrastructure. We look forward to deepen our collaborations with SCB TechX, Publicis Sapient and Mambu to drive financial inclusion in Thailand"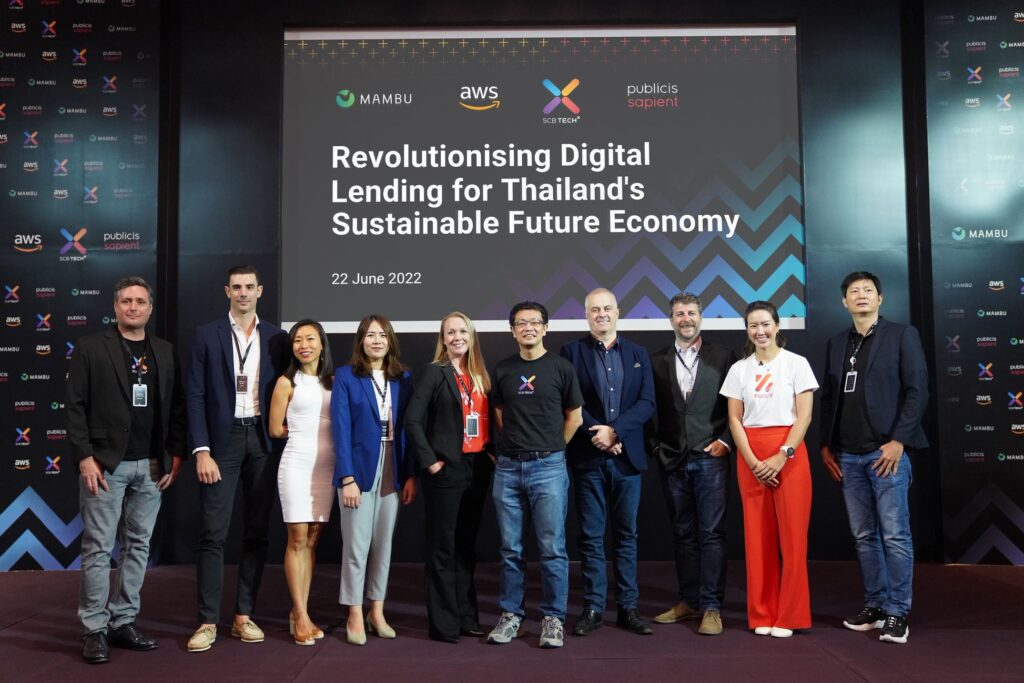 The event was also honored by the participation of high-level executives with expertise and experience in the fintech industry, namely Mr. Pham Quang Minh, General Manager of Mambu in Thailand and Vietnam;  Mr. Jonathan Sharp, Chief Technology Officer of SCB TechX Co., Ltd.; Ms. Jatupron Pimngern, Head of Product Development & Market Intelligence of DeeMoney; Mr. Narongrit Intasunta, Senior Solution Architect at AWS; Mr. Luca Durisotto, ASEAN Digital banking Lead at AWS; and Ms.Thiranun Arunwattanakul, Chief Operating Officer of Monix Co., Ltd. (MONIX), who shared their knowledge, perspectives, and experiences regarding emerging opportunities for conducting neobanking business in Thailand and for utilizing technology and information in the financial sector for entrepreneurs interested in the digital credit business.