SCBX Group
and digital business transformation company Publicis Sapient today announced they have reached an agreement to enter a joint venture under SCB TechX (www.scbtechx.io). This strategic joint venture will unite the talent, deep sector knowledge and best-in-class technology of both organizations to usher in the next generation of financial services across Southeast Asia.  This is an extension of SCB
X
Group's mothership strategy to create long-term growth, establishing a strong foundation that that tackles new business requirements amid an evolving global context.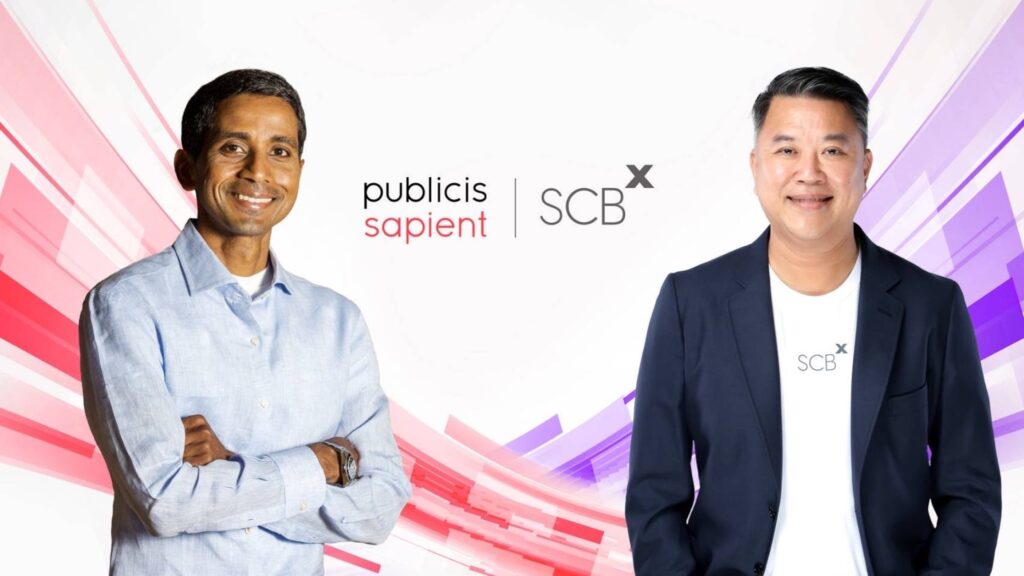 Speaking about the new joint venture, SCBX Chief Executive Officer and Chairman of the Executive Committee Arthid Nanthawithaya, said, "The launch of the SCBX Group's mothership strategy aims to transform it into a giant financial technology group capable of entering into regional and global technology platform markets and develop our people's technological capabilities to scale up platforms in a short period of time. Partnering with a global market leader in digital business transformation such as Publicis Sapient will combine the knowledge and synergy of two large regional enterprises and allow them to jointly develop and execute our vision for continuously evolving SCB TechX toward one of the biggest technology companies in Southeast Asia. SCB TechX will soon become instrumental in driving business and enabling the SCBX Group to achieve its mission, as planned, through the creation of new technological capabilities that provide platform-as-a-service solutions for financial businesses and beyond."
"SCB TechX is paving the way for a new class of technology companies built with the express purpose of helping banks reinvent how they provide value to their customers," said Nigel Vaz, CEO of Publicis Sapient. "This is a pivotal moment for personal finance and e-commerce globally, but particularly in Southeast Asia, where the market is growing exponentially. Our collaboration with the SCBX Group brings to bear the talent, expertise, and world-class technology of both organizations, resulting in a new business that operates with the speed of a digital native poised to usher in the next generation of technological capabilities."
The new venture will be led by industry veterans from both SCBX Group and Publicis Sapient. Trirat Suwanprateeb, SCB's Senior Executive Vice President and Chief Technology Officer, was appointed as CEO of SCB TechX, and Jonathan Sharp, Managing Director at Publicis Sapient, will join the new venture as CTO.
"SCB TechX's role is to create new digital technological capabilities to expand and create new businesses for the SCBX Group, allowing it to best capitalize on innovations and diversified technology platforms," said Trirat Suwanprateeb, CEO of SCB TechX. "SCB TechX will bring technology experience and cross-sector collaboration to prepare the SCBX Group and its business partners to meet new consumer demands and help them stay ahead of global competitors by readying them for a future world led by digital technology."
Digital payments are predicted to exceed US$1 trillion in transaction value by 2025 in Southeast Asia
1
. In Thailand, the number of digital payments users is expected to hit 43.77 million by 2025
2
.  Meanwhile, Thailand's neobanking segment is projected to show a revenue growth of about 58.7% in 2022. Furthermore, research from the Publicis Sapient Digital Life Index
3
found that 83% of Thai respondents currently have a bank account with a digital-only bank. All of these underscore the market opportunity for fintech in Southeast Asia, as well as Thailand.
"Across sectors and geographies, customers have come to expect sophisticated and convenient digital banking and non-banking services that help them move through daily life with greater ease," said David Murphy, Publicis Sapient's Head of Financial Services, EMEA & APAC. "It is imperative that banks and financial services organizations retool and reorganize to become leaders in these evolving ecosystems that harness the power of information, advanced technology and frictionless customer experiences. SCB TechX combines the technological and cross-sector experience that will be integral to SCBX Group's and others' efforts to navigate this digital-first future."
SCB TechX is a digitally native and industry-leading platform-as-a-service provider that develops digital technology systems which offer innovative banking services, such as credit and deposit products, and non-financial services, such as food delivery, health and wellness content and online travel agency services, and more, to both corporate and general customers across Southeast Asia. A true cloud native entity, SCB TechX will help institutions reinvent how they engage with their customers, drive significant efficiencies in the back office, and also target non-banking industries. With a scalable and flexible business model, SCB TechX will deliver innovations at speed. 
SCB TechX is an extension of the innovative work SCBX Group and Publicis Sapient have undertaken to develop digital banking and food delivery products and services that serve a growing market for cross-functional commerce platforms, powered by digital payments and other fintech capabilities. The growing popularity and proliferation of digital payments among Southeast Asia's consumers has propelled the region to become one of the fastest-growing fintech markets in the world. 
Source of Information 
1 The Future of Southeast Asia's Digital Financial Services, Google, Temasek and Bain & Company
2 FinTech in Thailand, Statista
3 Digital Life Index is based on a survey of 9,300 consumers from the US, Canada, Australia, UK, Germany, France, Sweden, Denmark, Hong Kong, Thailand, Singapore and the UAE, exploring people's behaviours, satisfaction and expectations as they relate to their digital experiences across three industries: financial services, retail and health. 704 consumers in Thailand were surveyed.