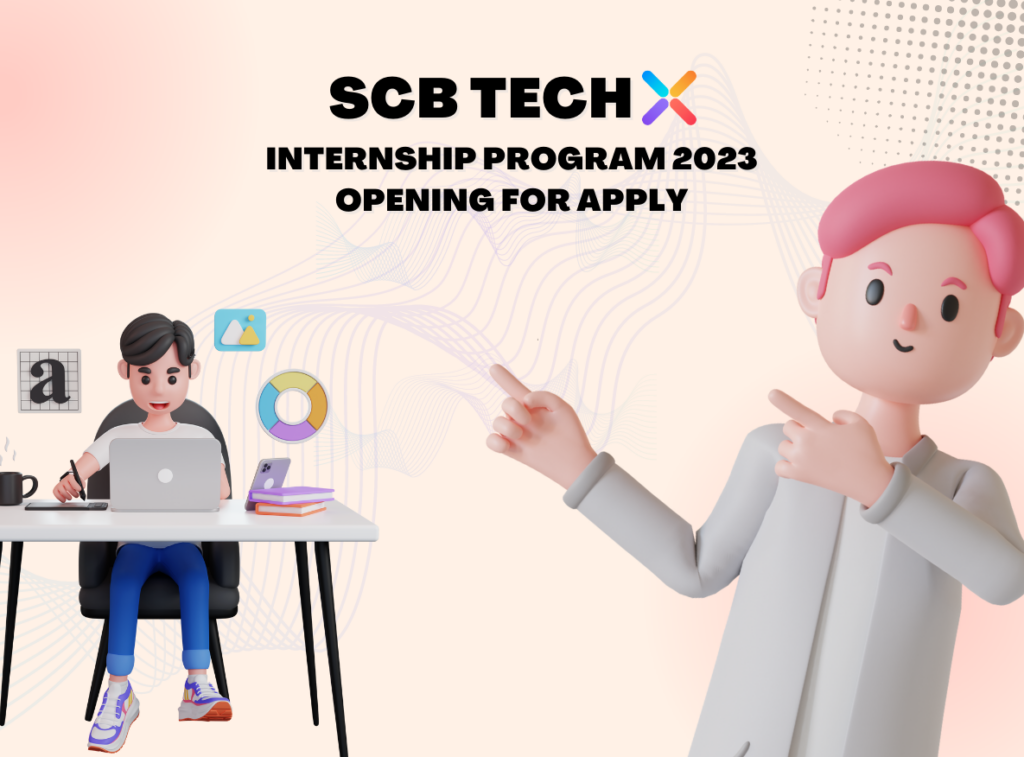 โครงการนักศึกษาฝึกงานภาคฤดูร้อนและสหกิจ กลับมาแล้วจ้า รายละเอียดอยากแชร์มีดังต่อไปนี้
ระยะเวลาการรับสมัครคัดเลือก

รับสมัครตั้งแต่ : วันที่ 1 – 31 มกราคม 2566
ประกาศรายชื่อผู้มีสิทธิ์สัมภาษณ์: 6 กุมภาพันธ์ 2566
นัดสัมภาษณ์ Virtual Interview : วันที่ 8 – 21 กุมภาพันธ์ 2566*
ประกาศผลสัมภาษณ์: วันที่ 27 กุมภาพันธ์ 2566
*เฉพาะผู้สมัครที่ผ่านการคัดเลือกเบื้องต้นจะได้รับการติดต่อ


ระยะเวลาการฝึกงาน
ฝึกงาน ช่วงปิดภาคฤดูร้อน :
พฤษภาคม – มิถุนายน 2566 (2 เดือน)
มิถุนายน – กรกฎาคม 2566 (2 เดือน)
ฝึกงานแบบสหกิจศึกษา:
มิถุนายน – ธันวาคม 2566 (4 – 7 เดือน)


ตำแหน่งงานที่เปิดรับสมัคร
• Software Engineer
• Software QA Engineer
• Data Science
• Business Analyst
• System Analyst
• Platform Service Engineer
• HR (Recruitment)


ก้าวแรกแห่งการทำงานที่ท้าทายและสนุกสนานกำลังรอน้อง ๆ อยู่ เพียงแค่ Scan QR Code หรือคลิ๊กลิ้งก์ https://bit.ly/3gNgBsx
และสมัครกันเข้ามาเลย โดยจะเริ่มเปิดรับสมัครและพิจารณาตั้งแต่วันที่ 1 มกราคม 2566 เป็นต้นไป
โอกาสดี ๆ รอน้อง ๆ อยู่รีบสมัครกันเลย!
SCB TechX Internship Program 2023
Summer & Cooperative Education Internship
"A wonderful opportunity to learn and uplift your knowledge"
SCB TechX is looking for talented students to join our internship program and cooperative education. This program offers you a great opportunity to practice, learn and get real world working experience which will help you grow personally and professionally, shining bright in your future career with plenty of interesting projects using new-edge technology. The timeline to apply and selection are as follows.
Internship Timeline
Application Period : 1 – 31 January 2023
Announcement of the list of eligible candidates for an interview : 6 February 2023
Virtual Interview : 8 – 21 February 2023
Announcement of the selected applicants to join our internship program: 27 February 2023
Internship Period
Summer Internship:
May – June 2023 (2 months)
June – July 2023 (2 months)
Cooperative Internship:
June – December 2023 (4-7 months)
Opening Roles for Intern
• Software Engineer
• Software QA Engineer
• Data Science
• Business Analyst
• System Analyst
• Platform Service Engineer
• HR (Recruitment)
Don't miss this great opportunity! Chance to work in team & learn new technical knowledge and guess, you will be our team in future so let's shine together!
Please scan QR Code and register or click link https://bit.ly/3gNgBsx to reserve your seats.
We are looking forward to seeing you soon.