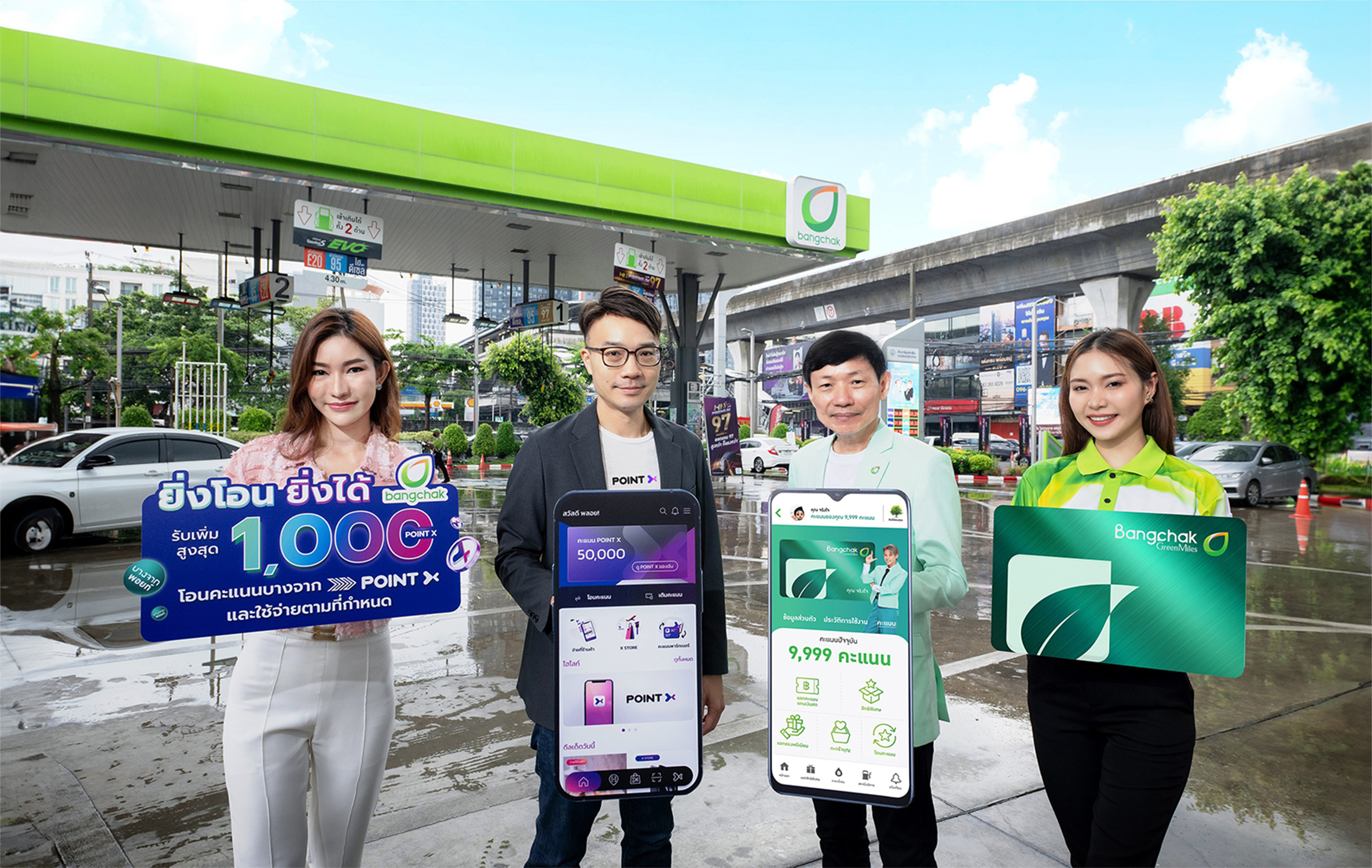 Introducing PointX, the ultimate platform that consolidates all your accumulated points in one place, empowering digital lifestyle leadership and expanding benefits to cater to every customer's unique preference. The platform is thrilled to announce the launch of our latest feature, "Point Exchange," which seamlessly connects points earned with our partners to create a comprehensive and integrated customer relationship management ecosystem (CRM Ecosystem). With PointX, customers can effortlessly transfer points from its partners and consolidate them into a single account, enhancing their point utilization experience without any limits. Our platform is designed to cater to customers of all generations, ensuring their diverse lifestyles are fully supported.
In our initial partnership, we joined forces with Bangchak, the leading loyalty platform in the retail oil industry. By combining the robust customer base of Bangchak Green Miles Digital Card with the multitude of benefits offered by PointX, we deliver an unparalleled customer experience. This collaboration enables customers to effortlessly transfer and exchange points between the two platforms, empowering them with a wider range of benefits that align with their unique lifestyles. Moreover, this partnership strengthens the bond between the customers of the two organizations and fosters long-term engagement and satisfaction.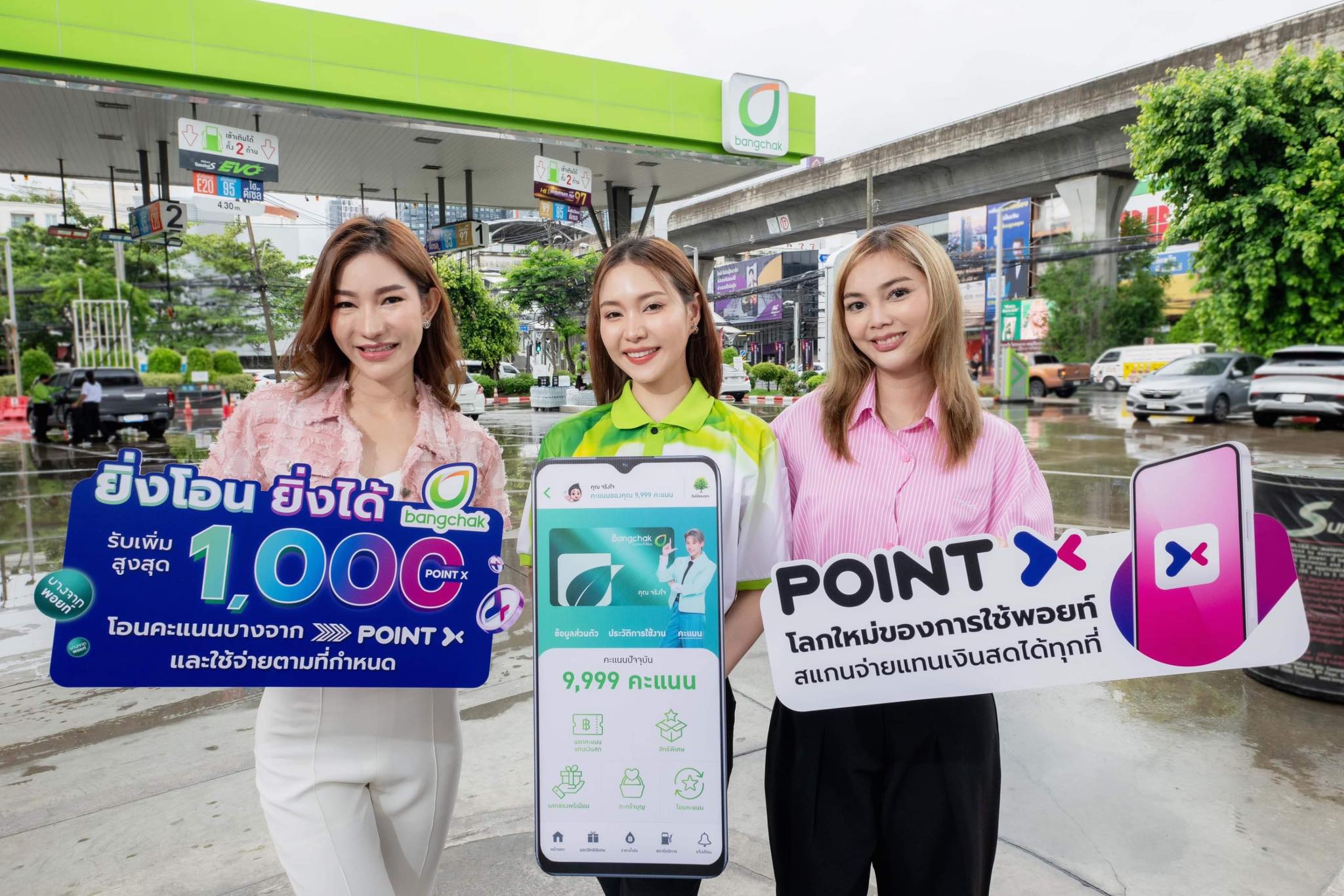 To celebrate this special collaboration, PointX presents the campaign "The more you transfer, the more you use, the more you get." By transferring Bangchak Points with a minimum balance of 500 points to PointX via www.bcpgreenmiles.com or the Bangchak Mobile Application, customers can enjoy the convenience of using PointX for payments instead of cash. Whether it's scanning a QR Code for in-store purchases or making online payments through the SCB EASY mobile banking app, customers can earn up to 1,000 PointX points, with a total of up to 5,000 privileges available from May 29 to August 31, 2023. Additionally, PointX customers can also transfer points to Bangchak Green Miles and enjoy discounts on fuel purchases. This campaign was recently launched in the presence of Mr. Krittee Manoleehagul, Chief Digital Platform Business Officer at SCB X Public Company Limited, and Mr. Somchai Tejavanija, Chief Marketing Officer of the Marketing Business Group at Bangchak Corporation Public Company Limited.
Join PointX today and experience the freedom of using your points like never before, replacing traditional point usage with our innovative platform. Get ready to unlock a world of privileges throughout the year with numerous partners. For more information, please reach out to the SCB Call Center at 02-777-7777 or visit our website at https://www.pointx.scb/bcp-exchange-get-1000/.
Here are the details of how to earn extra points when transferring Bangchak Points to PointX and making specified purchases:
When using 500-999 PointX, receive an extra 250 PointX.
When using 1,000-1,999 PointX, receive an extra 500 PointX.
When using 2,000 PointX points or more, receive an extra 1,000 PointX.
The extra points earned will be valid until October 31, 2023, at 11:59 p.m.
Here are the steps to transfer your Bangchak Points to PointX using the Bangchak Mobile App:
1. Select "Transfer points" from the menu.
2. Choose to transfer "Bangchak Points" to PointX.
3. Read and accept the terms and conditions.
4. Select the desired number of points to transfer and provide your ID card number.
5. Review the information and confirm the transfer to PointX.
6. Your Bangchak Points have been successfully transferred to PointX points.

Download the PointX application for a new world of unlimited point accumulation and redemption at https://www.pointx.scb/get/ and Bangchak Mobile Application.

• QR code for downloading:

                                PointX Mobile Application                                  Bangchak Mobile Application