The finance and payment landscape in Thailand has progressed at breakneck speed, ever since PromptPay was nationalised in Thailand. This revolutionised the people's preference on how they pay and interact with goods and services as a whole.
In order to keep up with the demands of digital natives and global trends, the Bank of Thailand has taken steps to enabling the exploration on new technologies (e.g. blockchain, CBDC) and encouraging new incumbents to disrupt the financial industry.
Thailand is also highly dependent on the Tourism industry, with an average of 18% of it's GDP contributed by the industry (pre-COVID). Businesses are also driven to be more online than ever before.
With the stage set for incumbents to disrupt how people pay, and with an opportunity to capture new market participants as we gradually re-open our borders post-pandemic, we combined our vision of a new payment infrastructure to pilot what we envision as the next big step in E-Money and a world of CBDCs.
The payment trillema for tourists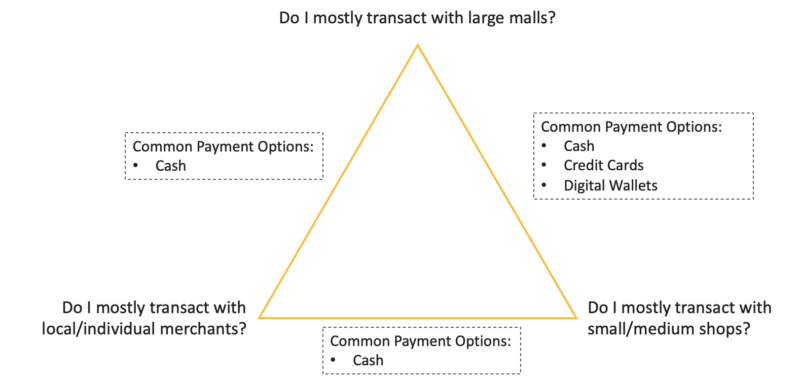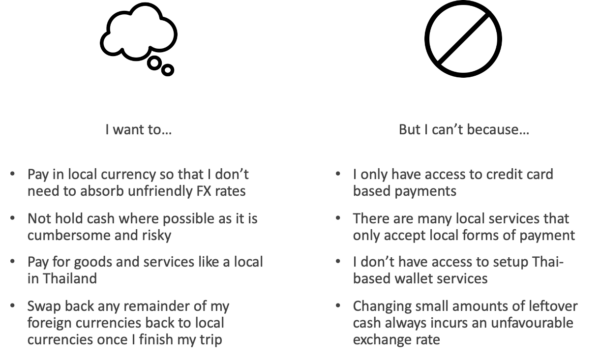 Travel wallet application enables tourists to pre-load cash and convert foreign currencies to asset-backed digital Thai Baht. Tourists can use their wallet to pay any merchants that accept QR payments. This could reduce the burden of tourists to hold physical cash and finding FX dealers while travelling.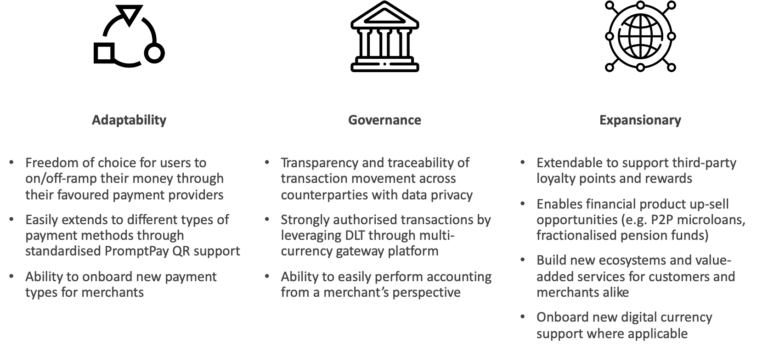 We chose blockchain technology to manage internal digital currency assets, which increases traceability and transparency of the asset movement. Moreover, in case CBDC currencies are widely available, we can use our blockchain to bridge between those digital currencies which improving settlement process than traditional cash transfer. Also our platform acts as customer digital assets's custodian, this would help end-user to easily on-board the application without knowledge of DLT and preventing the lost of their self-custodian digital assets.